Future Home of Newcastle School (Feb 1994)
This empty lot in a master-planned future commercial zone at 12257 S. 800 E. would become the Newcastle School Draper in the next few months.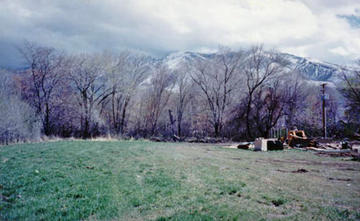 We negotiated on several pieces of property in the then sleepy little farm community of Draper. Properties we seriously considered but concluded would not work were: The old St. Johns Catholic Church on 1300 East at 12900 S, three of the corner properties on 1300 East Pioneer Road, the north-east addition of the Draper Park School and a property on 300 East 12350 South. With the encouragement of Draper City, we ultimately chose this site because the traffic generated by our school required a commercial location and this lot was just off the future retail corridor of 12300 South. In 1994, our property was a forest with deer living in it and our only commercial neighbor was the carwash which opened the same month we did. Within seven years, by 2002, we were completely surrounded by complementary commercial infill with customer flows that helped sustain one another.