3-4 Preschool Parent Participation
Moms, Dads & Grandparents have an open invitation to attend regular school days with their preschoolers. Newcastle has optimal staffing so there is no requirement on parents to help the school function but we want you to share the experience of a day at preschool with your child.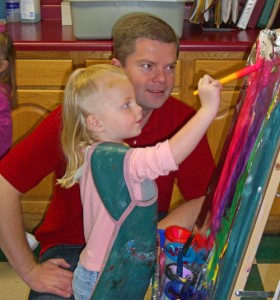 Every spring we open the school on a Saturday for Daddy Day at Preschool. This is our very deliberate gesture to promote father's involvement in the life of their child. This simple event becames a lifetime memory for both Dads and Kids. Parents of upcoming students who are enrolled in our next school year are encouraged to visit at their convenience before the school year begins to try out our potties, play on the playground and become comfortable with the school.