Best Preschool Near Bluffdale, UT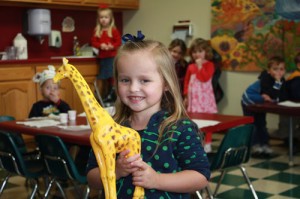 Preschool enrollment is open for children between the ages of 3 and 4 at The Newcastle School near Bluffdale, UT. We prepare children with the skills to achieve educational success and get them started on the right track for a lifetime of learning. Families in the area have trusted us to teach their children a range of topics in a way that keeps them engaged and encourages their interest in education.
Our preschoolers participate in a ten-month curriculum which provides an introduction to academics with a strong emphasis on socialization. We teach children the basics of school, get them accustomed to a classroom environment, and have them cooperating with peers on assignments.
Preschool provides children with first experiences, like following group instructions, socializing with classmates, and using materials in a practical setting. Our preschool curriculum ensures that students participate in a balanced and interesting ten-month experience that is designed to teach them an extensive range of capabilities and ideas.
Award-Winning Preschool Curriculum
Our preschool is a four-time best-of-state winner for our comprehensive curriculum. We believe in a scientific approach based on research about the best way to teach children of this age group. They learn best by doing, so we do many hands-on activities that keep them engaged in the topic we're covering. These types of tasks boost their cognitive ability, motor skills, and social development. Preschool costs at The Newcastle School are affordable and well worth it to give your child a quality education.
You want your child to get the most out of their time in class and our program covers a variety of topics including:
Preschool Costs That Fit Your Family's Budget
The Newcastle School wants your child to be successful and our preschool costs reflect that. We offer a quality education at a price that will help you stay within your family's budget. Our preschool program for our 3-4 year old students is focused on creating affirmative attitudes towards learning, improving self-esteem, and shaping inquisitiveness. We designed this academic curriculum specifically for the age group, so it is appropriately paced. While it isn't too easy, the program is fitting for their age and mental development.
Our small classes only have 12 students each, which enables us to add extra activities when necessary for those students who need more of a challenge. All age groups at our school use identical, standardized weekly social studies subjects, but each group engages in separate age-appropriate activities. We've put together a preschool program that develops a child's skill set far beyond what is recommended before attending kindergarten.
Contact Us for a Tour of Our Preschool
For more information about The Newcastle School near Bluffdale, call us today at 801-553-0622. We would be happy to schedule a tour and assist you with the enrollment process. Our mission is to give your child the tools they need to have an enduring appreciation for education as they move into elementary school and beyond.
We service the following cities and their surrounding areas: