Preschool at The Newcastle School – Riverton, UT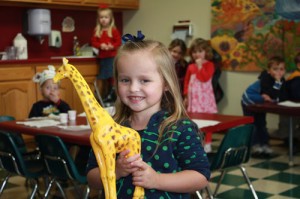 Do you have a 3 to 4 year-old? If you do, it's essential to start their learning growth immediately. The Newcastle School can prepare your little ones with skills for educational accomplishment and a lifetime of learning from an early age. For parents in the Riverton, UT area, The Newcastle School in Draper provides excellent pre-k curriculums for your children.
All children need early education. Preschool provides young students with the opportunity to learn important skills, socialize with others, and grow in a number of different ways. For most parents, the question isn't if they should enroll their child in preschool. The question is which preschool is the best out of all their available options?
In The Newcastle School, children ages 3 to 4 are involved in a ten-month program which provides an introduction to academics with a strong focus on socialization. At Newcastle, children are taught the mechanics of school and practice connecting with peers.
Going to preschool provides children with first experiences, such as obeying group directions, socializing with peers, and trying out materials in a hands-on setting. Our programs ensure that students get involved in a varied, interesting ten-month experience that is structured to teach them an extensive range of abilities and concepts.
Steps to Find Your Children the Best Preschool Experience
Parents have lots of preschools to choose from, especially if they live in an area with many options, such as Riverton, UT. Choosing the best preschool can be a tough decision for all parents. Here are three effective tips that can help make this choice easier:
Get Referrals
Talking to friends and family who have been through this process before is one of the best things that you can do. These people have valuable insight into the program that they selected, and maybe those that they didn't. This is the perfect starting point for limiting your search down to a few choices.
Rating Websites
A handful of websites exist that review local preschools and other schools. Reading these sites can give you an indication of your available options. We're not saying you should run with whatever pre-K school the site ranks first. But it will provide you with information to make the choice easier.
Tours
Before you finalize your decision, visiting a few of your favorite preschools is a must. This will give you the chance to meet with the teachers, ask questions, look at classrooms, and see if it meets your criteria.
Come into The Newcastle School in Draper, UT, and see what our preschool is all about. We're sure you'll be impressed with our preschool and that we meet all the criteria you want for your child.
What Our Preschool Offers
We want to help your child succeed. The curriculum for our 3 to 4 year-old students concentrates on developing positive feelings towards education, enhancing self-esteem and shaping curiosity. We designed this educational program explicitly for the age group. While it isn't too easy, the program is appropriate for their age and cognitive growth.
We keep our classes small, usually about only 12 students, enabling us to insert extra activities when appropriate for some students who need more of a challenge. All age groups at our school use identical, uniform weekly social studies subjects, but each group engages in separate age-appropriate activities. Our preschool programs at Newcastle develop children's skills much further than what is recommended before starting kindergarten.
Learn More
If you want to learn more about the preschool education your child will receive at Newcastle, view the following links:
Contact Us
For more information about The Newcastle School, visit our free interactive tour page or call 801-553-0622. We are located in Draper, but we have helped children in Riverton, UT, and throughout the greater Salt Lake Valley gain the skills they need for a lifelong passion for education.
We service the following cities and their surrounding areas: