Preschool
near Riverton, Utah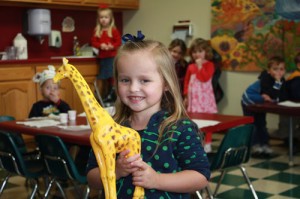 Do you have a 3 to 4 year-old? If you do, it's essential to start their learning growth immediately. The Newcastle School can prepare your little ones with skills for educational accomplishment and a lifetime of learning from an early age.
In The Newcastle School, children ages 3 to4 are involved in a ten-month program which provides an introduction to academics with a strong focus on socialization. At Newcastle, children are taught the mechanics of school and practice connecting with peers.
Going to preschool provides children with first experiences like obeying group directions, socializing with peers and trying out materials in a hands-on setting. Our programs ensure that students get involved in a varied, interesting ten-month experience that is structured to teach them an extensive range of abilities and concepts.
What Our Preschool Offers
We want to help your child succeed. The curriculum for our 3 to 4 year-old students concentrates on developing positive feelings towards education, enhancing self-esteem and shaping curiosity. We designed this educational program explicitly for the age group. While it isn't too easy, the program is appropriate for their age and cognitive growth.
We keep our classes small, usually about only 12 students, enabling us to insert extra activities when appropriate for some students who need more of a challenge. All age groups at our school use identical, uniform weekly social studies subjects, but each group engages in separate age-appropriate activities. Our preschool programs at Newcastle develop children's skills much further than what is recommended before starting kindergarten.
Learn More
If you want to learn more about the preschool education your child will receive at Newcastle, view the following links:
Contact Us
For more information about The Newcastle School, visit our free interactive tour page or call 801-553-0622. We are located in Draper, but we have helped children in Riverton and throughout the greater Salt Lake Valley gain the skills they need for a lifelong passion for education.