Highly Rated Preschool Facility for South Jordan, UT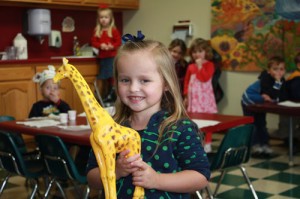 The Newcastle School is a highly rated preschool in the South Jordan area. If you are looking for an excellent facility to begin your child's education, we are your solution. Our educational program is perfect for preschool aged children between 3-4 years old. Our focus is to provide your kids with an introduction to the academics, socialization and process of school in a fun and nurturing environment. The Newcastle School will prepare our students with tools for educational success and a love of learning that endures.
Preschool offers children with many first-time experiences. Our curriculum at Newcastle is designed to foster a sense of self-reliance and self-empowerment to last a lifetime. Through a variety of preschooler aged exercises and activities, we promote cognitive growth and development, teach them to follow directions and processes, and interact socially with their peers. Our ten-month program is an engaging preschool experience developed with kids in mind.
The Newcastle Preschool
We want to help your child succeed academically and socially. Our syllabus for our 3 to 4-year-old students concentrates on building positive perspectives towards learning, improving confidence and developing curiosity. We designed our academic program directly for this age group. While it isn't too easy, the program is appropriate for their age and cognitive growth.
Our class size is limited to approximately 12 students, which enables us to modify activities as it becomes appropriate for individual students who excel when they are challenged. Each class utilizes the same standardized weekly social studies subjects. However, each age group participates in separate age-appropriate activities. The preschool programs at Newcastle increase a child's skills past typical Pre-K requirements.
Our Curriculum
We have provided a resource for parents to see what we teach at The Newcastle School.
Contact us To Enroll
To learn more about our preschool, visit our free interactive tour page or call 801-553-0622. We have helped students from South Jordan and throughout the Salt Lake Valley gain the tools they require for a lasting love of learning and appreciation for education.