Premier Pre-K for the Salt Lake City Area
Students, ages 4-5 participate in a pre-kindergarten program designed to achieve kindergarten readiness. The curriculum is progressive and children develop a skill set that goes incrementally beyond that which they were exposed to in their 3-4 preschool year. The Newcastle School is located in Draper, but a convenient pre-kindergarten program for residents of Salt Lake City, Sandy and Cottonwood Heights.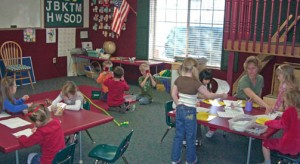 Click on these links to see specifics on Newcastle Preschool's 4-5 year-old curriculum:
Pre-kindergarten students are involved in a balanced and stimulating ten-month experience designed to teach a wide range of skills and concepts. All age groups at our school use uniform weekly social studies themes throughout the year, but each participates in separate age-appropriate activities. Our pre-kindergarten methods stress real-life experiences and learning opportunities. Students become actively involved with new learning materials, art and music while making many discoveries beyond those that they make during their 3-4 preschool year.
Click on the sub-menu for specifics elements of the curriculum.
What should your 4-5 year old know prior to entering Kindergarten? Here are some suggestions from Canyons School District:
Canyons School District Checklist: What your child should know before kindergarten
We service the following cities and their surrounding areas: