4-5 Preschool Curriculum near South Jordan, Utah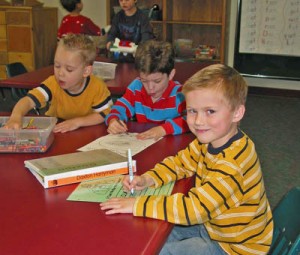 Do you have a child between age 4 and 5? The Newcastle School can prepare your child with equipment for academic success and a long-lasting passion for learning at a young age.
In this preschool, students between ages 4 and 5 take part in pre-kindergarten programs intended to accomplish kindergarten preparedness. These programs are dynamic and enable children to expand a skill set that goes incrementally beyond what they were taught during the 3-4 preschool year. The Newcastle School is located in Draper, so we are a well-located pre-k curriculum for people in South Jordan, Bluffdale and Riverton.
Attending preschool gives children with initial experiences like listening to group instructions, talking with classmates and using materials in an applied method. Our curriculums make certain that students participate in a symmetrical, stimulating ten-month educational experience that is engineered to teach them a comprehensive scope of skills and wisdom.
What Our Preschool Gives Students
The Newcastle School wants your child to thrive. All age groups use uniform weekly social studies themes throughout the year, but each participates in separate age-appropriate learning activities. Our pre-kindergarten methods for 4-5-year-olds stress real-life experiences and learning opportunities. Students become dynamically interested in new learning resources, art and music while making breakthroughs that are more advanced than those they made in the 3-4 preschool year.
Find out More
Visit any of the links below to find out more about our 4-5 curriculum:
Have questions about what your 4-5-year-old should know before going to kindergarten? Here are some recommendations:
Canyons School District Checklist: What your child should know before kindergarten
Contact Us
To find out more about us, go to our free interactive tour page or call us 801-553-0622. We have taught students from South Jordan, Bluffdale, Riverton and across Utah, helping them gain the skills they require for a permanent appreciation for education.
We service the following cities and their surrounding areas: