Preschool for Families in West Jordan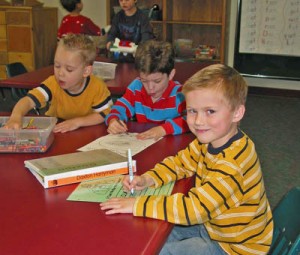 Is your child 4 or 5? The Newcastle School in Draper can prepare your child with resources for educational success and a lifetime love of learning from an early age.
At our preschool, students ages 4-5 participate in pre-kindergarten programs designed to attain kindergarten preparedness. These programs are forward-thinking and allow children to expand a skill set that goes incrementally beyond what they were taught during the 3-4 preschool year. The Newcastle School is housed in Draper, so we are a convenient pre-k curriculum for families in West Jordan, Salt Lake City, Sandy and other cities throughout the valley.
Attending preschool gives children with initial experiences like following group directions, talking with classmates and using materials in an applied method. Our programs make certain that students get involved in a symmetrical, stimulating ten-month experience that is developed to teach them a comprehensive scope of strengths and ideas.
What The Newcastle School Offers
The Newcastle School wants your child to flourish. All age groups use streamlined weekly social studies topics throughout the year, but each engages in separate age-appropriate learning activities. Our pre-kindergarten methods for 4-5-year-olds stress realistic experiences and learning opportunities. Students become enthusiastically interested in new learning resources, art and music while making findings that are more complex than discoveries made throughout the 3-4 preschool year.
Find Out More
For details about our programs, look at these links:
Contact Us
To find out more about us, go to our free interactive tour page or call us at 801-553-0622. The Newcastle School has helped children in West Jordan and other cities in the Salt Lake valley gain the tools they need for an enduring love of education.
We service the following cities and their surrounding areas: