Oregon School Children Get Only 12 Minutes of P.E.
by Betsy Hammond, The Oregonian Wednesday March 11, 2009,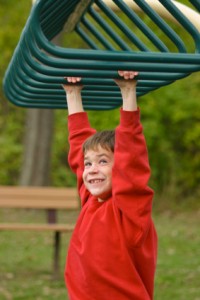 The typical elementary student in Oregon gets just 12 minutes a day of physical education, less than half the daily 30 minutes that the Legislature set as a target, the state reported Wednesday. For the first time, schools were required to report how much PE instruction they offered students in every grade during 2007-08. The answer: A lot less than lawmakers and anti-obesity crusaders would like. The goals, laid out in a bill that passed the Legislature in 2007, included shooting for an average of 30 minutes of daily PE class for elementary pupils and 45 minutes a day for middle-schoolers. In reality, only 35, or 4 percent, of Oregon's nearly 800 elementary schools met that target. Large Portland-area districts were among those with the skimpiest offerings. Portland elementaries offered their students an average of just 12 minutes of PE class per day, Beaverton's 15 minutes, North Clackamas 13 minutes and Hillsboro just 11. Parkrose school district offered the least elementary PE, just seven and a half minutes a day on average, the state reported. The numbers were presented to the Senate Education Committee Wednesday. Among the reasons for the limited offerings, officials said: Gyms are too few and too small; schools can't afford enough PE teachers; and schools feel they need to stress reading, math and writing, since schools are rated based on test scores in those areas. "It's really come down to a lot of money issues," said Dave Turnbill, teacher and track coach at Bend's Summit High. "We are considered a non-essential class." Turnbill has established a model fitness program at this high school, but still worries about the state of PE, even in his school. Students are allowed to dodge his PE class by taking an on-line physical education course instead. "Can you just say oxymoron?" he asked to guffaws from the committee.